Friendship, Literature and Morality
Delta Phi Fraternity's three values are Friendship, Literature, and Morality.  Our chapter realizes those values through its own mission statement, and seven chapter principles developed through experience and reflection on the question, "Who Do We Want To Be?"
We are brothers shepherding young men into adulthood;
Celebrating and supporting each other through all stages of life;
Entrusted as stewards of Llenroc;
Making a positive impact on the Cornell community and the world beyond;
Exemplary gentlemen and scholars;
'True and Firm'.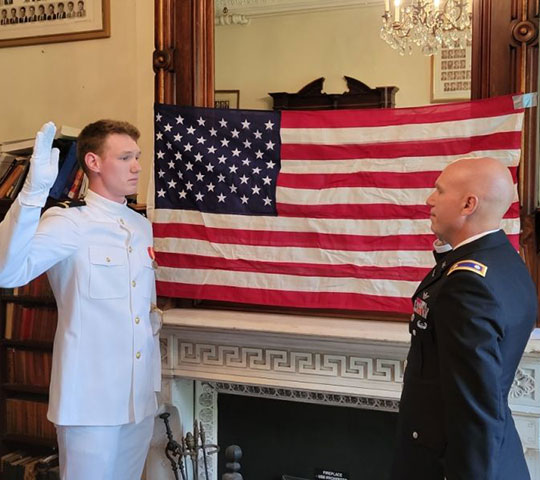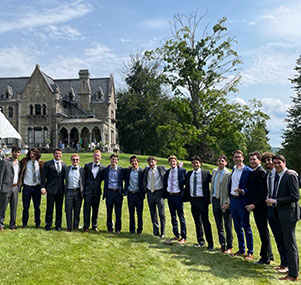 A Fraternity, Not A Frat.  We are a Brotherhood of fraternity men, who aspire to be gentlemen and scholars.  We are not "frat boys."  
Not For Everyone, But Open To Anyone.  Membership in an intimate, self-governing, residential society isn't something that suits every man.  But the experience we offer is open to any man to whom it appeals, because we see diversity as strength.
Shared Experience, Not Shared Hardship.  We build brotherhood through positive, exciting, and worthwhile shared experiences.  New member orientation is challenging, fun, and rewarding;  it is not agonizing, frightening, or dangerous.  
Consideration.  We treat our brothers, friends and guests with consideration.  Our relationships with our brothers are based not on "What can you do for me?," but on "What can we do for each other?"  
Stewards of Llenroc.  Living in Llenroc is a privilege.  We respect and care for it as the brothers before us did, so that future generations of brothers can enjoy our home just as we do.   
No Empty Chairs.  Every brother participates fully in the life of the chapter.  There is room for every brother to contribute meaningfully, in his own way;  what's important is that every brother contributes.  
Brotherhood For Life.  The friendships forged here last a lifetime.  Brothers benefit from the personal and professional network the chapter offers and pay it forward later in life.
Undergraduate members of the Pi Chapter of the Delta Phi Fraternity at Cornell University shall abide by the following Code of Conduct.
While this Code of Conduct highlights certain aspects for emphasis, it incorporates by reference all Cornell University Policies that apply to students and fraternity members as well as all policies prescribed by the National Delta Phi Fraternity, including those listed below, as they may be amended from time to time.
Cornell Student Code of Conduct 
which prohibits, among other things:
(IV.G) To…distribute…or sell…controlled substances
(IV.K) Hazing (hazing is strictly prohibited and members MUST review Cornell's hazing site https://hazing.cornell.edu/definitions)
(IV.V) To possess…firearms
Cornell Office of Sorority and Fraternity Life Policies 
which include the quoted policies listed below, among others:
"Social Event Policy" (August 2021) requires, among other things:
(3) Alcoholic beverages [at an event] must either be: (1) provided and sold on a per-drink basis by a licensed and insured third-party vendor (e.g., restaurant, bar, caterer, etc.); OR (2) brought by individual members and guests through a bring your own beverage ("BYOB") system.
(11) Any event or activity related to the new member joining process (e.g., recruitment, intake, rush, etc.) must be substance free. No alcohol or drugs may be present.
"Expectations for Membership" (July 2021) requires, among other things:
(11) The fraternity…will not tolerate or condone any form of sexually abusive behavior on the part of its members, whether physical, mental, or emotional.
(12) The…fraternity will not possess hard alcohol [more than 15% ABV] in a residential chapter house at any time.
Delta Phi National Risk Management Policies
 which requires, among other things:
(2) Open parties, meaning those with unrestricted access by non-members of the fraternity, without specific invitation, where alcohol is present, shall be forbidden.
Delta Phi Pi Chapter Social Policy
which requires for undergraduate-hosted social events, among other things:
Indoor events at Llenroc shall be limited to 150 attendees including members and a 3:1 maximum ratio of guests to members
Events taking place on Llenroc's first floor shall be limited to formal/date functions or events without alcohol

Delta Phi Pi Chapter Specific Policies
are as follows:
New members receiving bids shall not be denied initiation so long as they meet new member education attendance requirements and comply with this Code of Conduct.
Theft or vandalism of property, even if temporarily or as part of a prank, is prohibited.
VIOLATIONS:
Observed
violations
of this Code of Conduct
must be reported to the Board of Trustees
of the Cornell Delta Phi Association by any member having knowledge thereof. The Board has the authority to investigate reports of violations and take appropriate action up to and including expulsion from the Fraternity.