Get to know our Growth Coordinator and Recruitment Chair
Hi, I'm Mike Miscia, Growth Coordinator for Delta Phi. Pi Chapter is back on campus and ready to continue its long and successful history at Cornell with a new generation of brothers. We recruited a terrific class during the fall semester. Our spring recruiting process will give prospective new members the chance to meet our current brothers and learn about our tight brotherhood, strong alumni connections, commitment to philanthropy, and our beautiful home Llenroc. In addition to our recruitment events, we'll have one-on-one meetings that will allow brothers and prospective new members to get to know one another even better.

To find out more about who we're looking for and learn more about how to join and membership expectations continue reading below.

If you're interested or have any additional questions, or interest in the process then please feel free to email me at [email protected] or simply fill out your information on our Contact page.

Hi, I'm Rohit Dsouza '25, Recruitment Chair of Delta Phi. Pi Chapter's hallmarks are its engaged and enthusiastic undergraduate brotherhood, its one-of-a-kind home, and its strong and supportive alumni base. We've had a terrific fall semester back on campus, and are looking forward to an even better spring semester. If you have questions about the recruitment process or would like to find out more about our chapter, please contact me at [email protected] or simply fill out your information on our Contact page.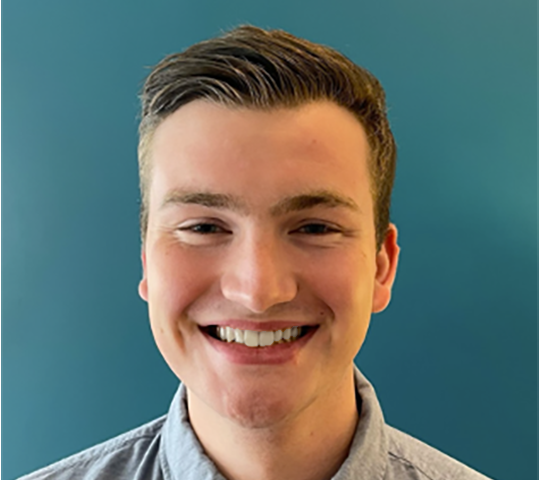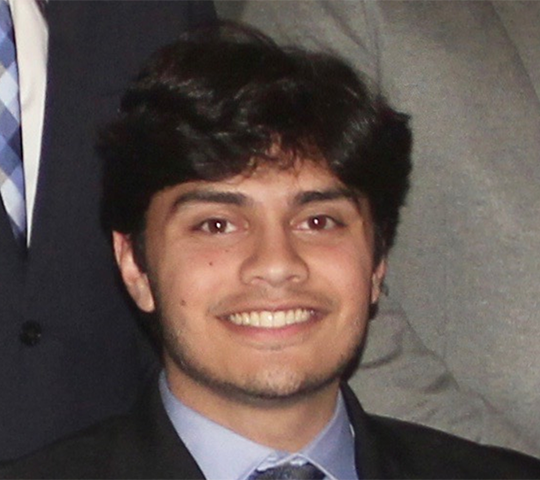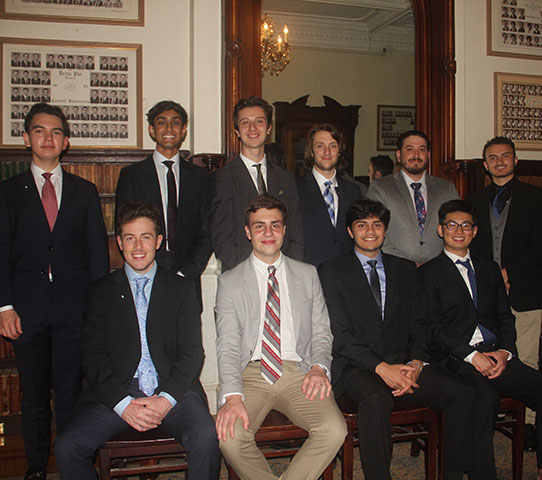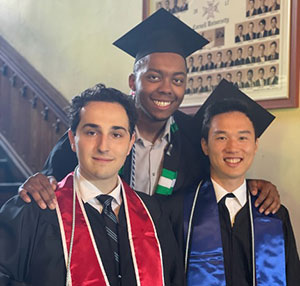 We're interested in men who are excited by the idea of being a re-founding brother. Men who like the challenge of creating something new, while continuing the best parts of the proud legacy that came before. Men who value diversity and crave solidarity. Men who seek something deeper than the dumbed-down depictions of fraternity life they see in popular culture.
If you have leadership experience or want to develop it, or you're an achiever who takes pride in being well-rounded, or you're serious about academics but want the additional learning you can only get outside the classroom, or you're a people person who's energized by the thought of working and playing as part of a community of close friends whose life experiences and perspectives are different than yours, we should talk.
The opportunity to make your own mark, helping to lead the re-founding of a more than 130-year old chapter with an historically strong presence on campus.
The institutional knowledge to build a chapter culture that creates lifelong friendships at a depth not otherwise available in the ordinary course of college life.
The experience of living in one of the most beautiful residential houses not just at Cornell, but in the United States.
A well-run chapter corporation that is one of the few fraternities at Cornell that actually owns its home: self-sufficient, independent, and ready for the future.
Scholarships for undergrads who meet relevant criteria.
Opportunities to learn leadership, strategic planning, budgeting, and people skills you'll take with you after you graduate.
The backing of an active, engaged, and loyal alumni base that offers mentorship and career networking.
We invite you to join us at this unique and exciting time in our history.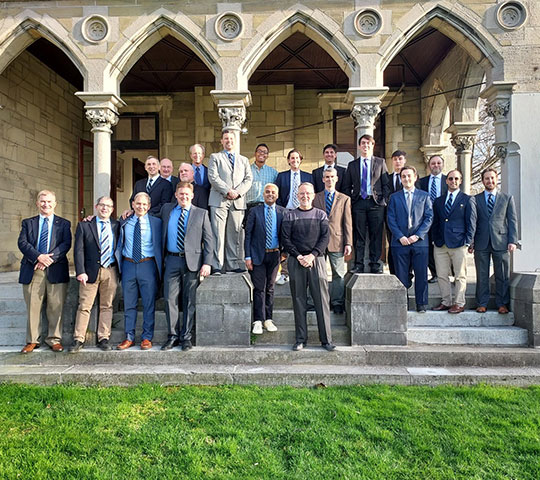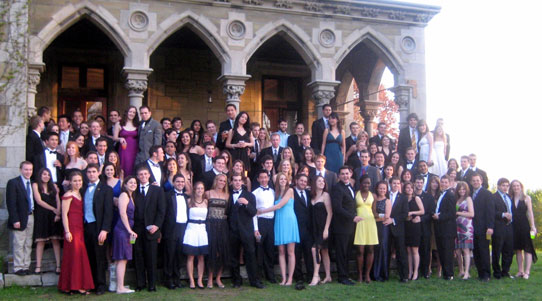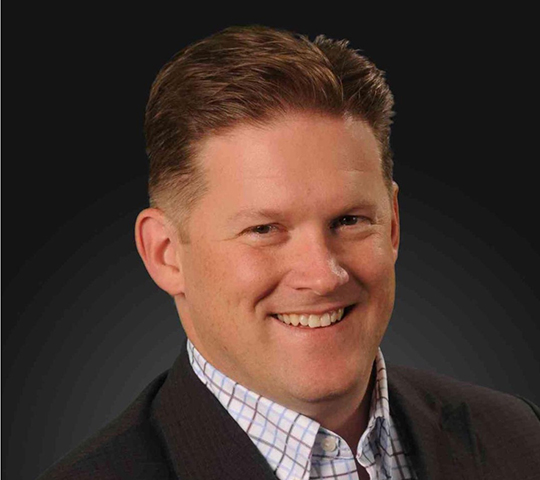 Derek Edinger
Pi '91
President, Cornell Delta Phi Association
Delta Phi has a long and proud history at Cornell that we intend to continue. During our hiatus, we studied, examined, and debated who we want to be. The answer, in a nutshell, is we want to be a fraternity that develops young men into mature, responsible individuals, with alumni actively involved, working in tandem with undergraduate brothers to further our values.
We firmly believe Delta Phi is obligated to have a positive impact on Cornell and the world beyond.  While at school, we host charitable events and volunteer on campus.  Delta Phi alumni carry this obligation wherever they go, volunteering in their communities and participating in charitable activities throughout their lives.
The bonds forged at Cornell are strong and continue after graduation.  This wealth of friendship is more than memories, though.  Our network of alumni are a resource of career advancement and advice.  The men you live with at Llenroc often turn out to be the applause to your life's accomplishments and your support during life's hardships.
Finally, we see ourselves as gentlemen and scholars who are 'true and firm'.  We take integrity seriously and strive to do the right thing in all instances.  We pass on these lessons to our undergraduate brothers so that they may live a life worth living.
If you want a truly memorable choice among fraternities, I hope you'll consider Delta Phi.  See you at Llenroc!

Derek Edinger
Pi '91
President, Cornell Delta Phi Association
The Cornell Delta Phi Association is the nonprofit corporation that owns Llenroc.  Incorporated in 1897, the Association oversees the Llenroc physical structure, works with undergraduate brothers, and promotes alumni engagement.  The Association is governed by a volunteer board of approximately twenty elected alumni Trustees who were members of the chapter as undergrads, ranging from the 1950s to the 2000s.  Several additional alumni serve as non-elected Associate Trustees.  The Board brings a wide range of experiences and perspectives to the chapter, and meets monthly.
We consider parents an important stakeholder group. Almost all of the Trustees and Associate Trustees are parents too, and three of us have sons who are current or recent undergraduate brothers.  For decades, the chapter has hosted an annual Parents Weekend that allows parents to spend time at Llenroc and get to better know the brotherhood.  
Historically, our chapter has offered its undergraduate brothers significant opportunities for leadership, philanthropy, and growth.  Our large and loyal alumni base provides opportunities for mentorship, networking, and professional growth after graduation.
During the chapter's hiatus from campus from 2018 to 2022, the Association invested tremendous resources into a thoughtful and purpose-driven re-start, ranging from a re-prioritization of the chapter's values to major renovations to Llenroc.  We are committed to re-building the kind of chapter that will be known for deep and lasting friendships, an engaged and enthusiastic undergraduate membership, a safe and meaningful new member orientation program, and an intimate and familial living experience in the context of a large and elite university.  
We encourage you to learn more about Delta Phi and whether our chapter is the right fit for your son.  Please contact us with any questions you may have.